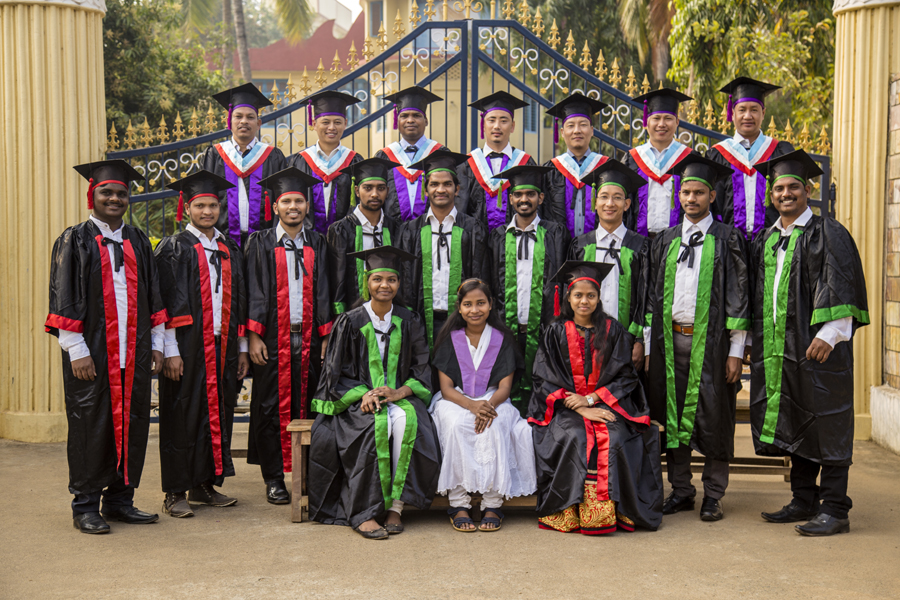 The B.Th. program aims to provide adequate ministerial training to candidates in order to equip them for effective Christian service.
Qualifications for Admission :
Candidates must comply with section 12.

Candidates must have successfully completed pre-university course or its equivalent.

Candidates who are awaiting results may also apply.  Such candidates must produce the proofs of successful completion before the end of the first year at COTR Bible College in India .

10th standard pass candidates who have successfully completed a two-year diploma program from a recognized Theological Institution can also apply.
Duration :
B. Th. is a three-year program for those candidates with pre-university course pass certificate and two-year program for candidates who have achieved II Class in Diploma in Theology from an ATA accredited institution.
Graduation Requirements :
Successful completion of 108 credit hours

Satisfactory field ministry involvement

Satisfactory formation of character, spirituality & ministry
FEE STRUCTURE 2019 – 20

BACHELOR OF THEOLOGY (B. Th)

B.Th  2019-2020

1st Yr

2nd yr

3rd yr

Admission Fee

Rs.5,000/-

 

 

C Deposit

Rs.2,000/-

 

 

Library Fee

Rs.2,000/-

 Rs.2,000/-

 Rs.2,000/-

Gen Fee

Rs.3,000/-

 Rs.3,000/-

Rs.3,000/-

Graduation

 

 

Rs.2,000/-

Hostel Fee

Rs.26,000/-

Rs.26,000/-

Rs.26,000/-

Tuition Fee

Rs.30,000/-

Rs.30,000/-

Rs.30,000/-

Total Fee

Rs.68,000/-

Rs.61,000/-

Rs.63,000/-

TM Scholarship

Rs.37,000/-

Rs.32,000/-

Rs.32,000/-

Students actual Payment

Rs.31,000/-

Rs.29,000/-

Rs.31,000/-
PAYMENT MODE
| | | | |
| --- | --- | --- | --- |
| Instalment | 1st Yr | 2nd Yr | 3rd Yr |
| June 5th | Rs.15,000/- | Rs.13,000/- | Rs.15,000/- |
| Sep 5th  | Rs.8,000/- | Rs.8,000/- | Rs.8,000/- |
| Jan 5th  | Rs.8,000/- | Rs.8,000/- | Rs.8,000/- |
Payment of Fees :   
Student/Sponsor can either make direct deposits from your accounts OR make cash deposit and bring the chalan to confirm payment at the office OR by DD/Check(Including the processing fees) in the name of COTR College of Ministries. If payment is done by NEFT or RTGS, the transaction code must be submitted to the office Application and Prospectus fees are to be paid during the request for the same. Students should clear all fees and dues in full before the final examination. The College reserves the rights to revise the fee structure as and when considered necessary.