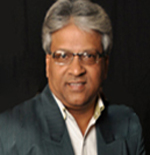 Dear Friends,
Greetings in Jesus' Name. It is with great joy and thanks that we testify to you of God's faithfulness in our lives. We are thankful to God and count it as an honor to share what He is doing through Christ for India and COTR College of Ministries.
While working abroad, Helen and I received the call of God for full-time ministry and returned to India to help the ministry which our parents began in 1981. Since 1999, we have been serving in the ministry in different areas. We are happy that we obeyed the call of God at the right time and He is using us to build the Kingdom of God.
Today the challenges are many, but God in His abundant wisdom is guiding us to do His will. He is helping us in all our ways so that many are molded for God's ministry, given spiritual, formal and vocational education, and provided with jobs, food and shelter.
The physical challenges of rebuilding after the cyclone that hit our coast last year is almost over. We have been blessed to have many friends and prayer partners that came and helped us to do the manual work along with all our staff.
We are using a favorite saying of Late Apostle Dr. P.J. Titus, "THINK BIG" to keep us moving forward and doing things that are bigger than us. But we have a bigger God who will help us to achieve all things. We are proud to announce that we will be offering PhD in Missiology in the next academic year 2016-2017. The media center for ministry and vocational training is progressing, and we will begin to use this media ministry to expand His Kingdom in India.
Our prayer is that let the Lord empower us by the Holy Spirit to continue the vision our father, the late Apostle Dr. P. J. Titus, had for India, and to be a blessing to many until the coming of our Lord Jesus Christ.
God Bless
In His Commission
Rev. Johnson P. Titus